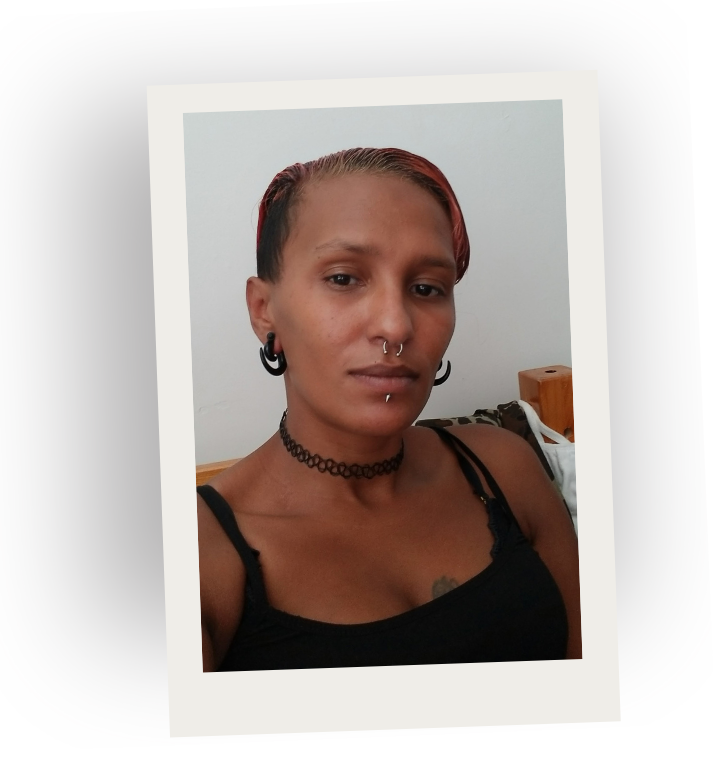 Last year, Dominique entered the doors of her recovery home knowing it was time to ask for help. She describes this time as "desolate," having experienced one of the lowest points in her life, but Dominique knew she needed a change. "Part of me didn't want to put the work in to change who I was because change is a scary thing," she said. At first, she spent a lot of time alone contemplating what steps she would take next, but slowly connected with other women in the program who were also going through their first steps in recovery.
Dominique spent time in community with others and began to hear the name "ATR." After learning that the ATR program might be an option for her to create a career for herself, Dominique not only opened herself up to change, but also to the idea of a whole new life.

When Dominique enrolled in ATR, she felt ready to accept any resource that would support her next steps in recovery. She began the ATR Paths to Empowerment (P2E) Program where she learned to write a resume, use online tools to find job opportunities, and build her self-confidence in preparation for the workplace. During this time, she was also participating in a weekly exercise group at her recovery home. A personal trainer, Coach Joe, would teach everyone how to stretch and exercise. "I learned how to run my first 5K, which I thought was amazing," Dominique said. She ran the Road to Wellness 5K and credits Coach Joe saying, "He is the person who motivated me toward the fitness industry."
After completing P2E, Dominique met with her ATR Coordinator, Patricia, to talk about job training opportunities and the first one on Dominique's mind? The American Academy of Personal Training (AAPT) personal training course. "Patricia made sure I was ready," she said, "It was because of her that I was able to take the class." Patricia was there to ensure Dominique's success whether she needed a transportation pass or even a backpack. During the course, Dominique not only strengthened her mind with everything she would need to know as a personal trainer, but also strengthened her body through weightlifting. She attended classes and collaborated with her classmates, feeling empowered to start her new career. "I now have something that I can depend on, not only to support me and my family, but also, I am going to be able to help change someone else's body, mind, spirit with what I know," Dominique said.
Once Dominique graduated from AAPT, she utilized the skills she had learned in P2E to work on her resume, cover letter, and begin the application process. She explained that there came a point in the process where she feared her own success, "You're almost scared to take that next step," she said, "You don't have the safety of the classroom anymore and you have to rely on everything you've retained." After getting the encouragement she needed from Patricia and others supporting her, the interviews started rolling in. Dominique accepted a position at a top-of-the-line facility in Boston where she is now leading fitness classes like Tabata, HIIT, sculpting, and training clients one-on-one. She is also continuing to improve her own technique, collaborating with other trainers. Dominique said, "I am getting firsthand knowledge from people who have been in this industry for years…It's an amazing opportunity that when I left the classroom, I did not think I was going to get."
Dominique left her recovery home, but felt she still needed more structure, so she enrolled in ATR Sober Home Services. "It gave me the ability to not have to worry about where I was going to stay, who was going to pay for it, and I got a chance to worry about the things I needed to do to better myself without the added pressure of the financial responsibility," Dominique said. With the support of ATR Sober Home Services, Dominique has been able to build up her savings and stay focused on continuing her recovery.
This summer, Dominique will be taking her journey full circle, training others in recovery to run their first 5K in the Road to Wellness 5K. Before Dominque enrolled in ATR, she described her life as desolate. When asked how she would describe her life today, starting her career, working with others, and continuing her recovery, she said, "Grateful."