ATR services have pivoted to both online and in person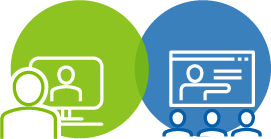 It is ATR's top priority to keep participants and staff safe and healthy during the COVID-19 pandemic. Until Spring 2020, all ATR services, programs, classes, and trainings were all in-person. When COVID hit, ATR pivoted all service provision and job training programs to an online, virtual environment. Because most ATR participants do not have access to modern technology, ATR purchased the technology for participants so they could enroll in the online job-training programs. More than 100 Chrome Books, earphones, and hot spots have been purchased and delivered to participants enrolled in the various job training programs, including job readiness, as well as occupational training programs. 
This technology was necessary because the Career Building Initiative (ATR's job training program), quickly re-designed curriculum for an online delivery format. Thus, ATR is now offering education and career-readiness programs for active ATR participants in a variety of ways. For example, our partners now deliver training programs through in-person, online, or a hybrid learning model, which blends components from both face-to-face interaction and online programming. Several programs have reopened using this new format, including all four of the MassHire Career Centers, which implement ATR's 3-week job readiness program, YMCA Training Inc., Community Work Services, Bristol Community College, Holyoke Community College, NECAT, American Academy of Personal Training, Project Place, truck driving, and others. 
Because group shopping trips are no longer possible, ATR shoppers (working from their homes) go online to either pay monthly bills (gas, electric, insurance, internet, etc.) or purchase critical essential items for participants.  
In addition, the Sober Home Pilot Project is now enrolling new referrals by telephone so they can take advantage of rental assistance for their stays in Sober Homes throughout MA. Find out more here. 
If your contact information has changed or if you would like to speak with someone regarding a class, please call your ATR Coordinator to leave a message with your name, and correct phone number.  
As the COVID-19 pandemic continues, Americans are  continuing to report high levels or emotional distress, with a growing negative impact on mental health and wellness.  To support people who are struggling with isolation and loneliness during this difficult time, AHP adapted our evidence-based Wellness Recovery Action Plan (WRAP) to produce a special publication that addresses these concerns.
For a listing of available resources for individuals in recovery, visit these links for up-to-date information.